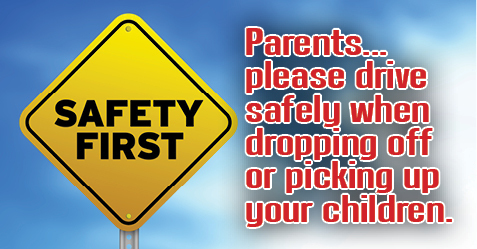 Parking Lot Etiquette
Mrs. Melissa Rufai
Friday, August 17, 2018
If we follow these simple steps we can create a less hectic drop-off/pick-up experience and ensure that all are safe:
Students must be dropped off in the DROP OFF LANE only. Please do not drop them off in the staff only side or the new parking lot and have them cross the parking lot.
For the safety of everyone, please do not walk in the middle of the parking lots. PLEASE USE THE SIDEWALKS AT ALL TIMES.
Please be kind and respectful to our neighbors, pedestrians and other drivers. PLEASE REMEMBER TO THROW ALL TRASH IN A NEARBY TRASH CAN.
Please pull forward all the way to let as many people in the parking lot as possible. Remember there are people waiting on Teakwood to get into the parking lot.
If you park in the neighborhood, take an extra minute and use the crosswalks to keep you and your child safe. DO NOT BLOCK OUR NEIGHBORS DRIVEWAYS OR PARK IN FRONT OF THE FIRE HYDRANTS OR ON THE CROSSWALKS.
Use the right of way. DO NOT ENTER through the parking lot EXIT.
Please DO NOT park in the alley or block the alley.
If dropping off at the back gate, please note for the safety of students, students cannot run across the street or cross the street by themselves. We are asking that an adult please walk your child across the street. Also, please do not stop on the crosswalk when loading or unloading.