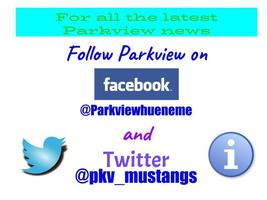 Now you can follow us on the Hueneme App, Facebook, and Twitter. Follow us on Facebook @Parkviewhueneme . Follow us on Twitter @pkv_mustangs . If you download the Hueneme app, make sure you select Parkview as one of your schools under the settings menu. We look forward to connecting with you and keeping you informed.
I would like to take a moment to ask for everyone's help with traffic safety. Please park your car in a legal space to pick up or drop off your child. Arrive early in the event that you may need to park a block or two away. It is unsafe for children to walk into the street to enter or exit a vehicle that is still in the lane of traffic. If a collision should happen whi...
Welcome to Parkview for the 2018-2019 school year! We are excited to announce the opening of our Two-Way Dual Immersion Program starting in Kindergarten and First Grade. We are also continuing our commitment to protecting the environment through our Ocean Guardians program and our new Native Schoolyard Habitat/Outdoor Classroom. We look forward to seeing all of you on ...