Hueneme Elementary School District encourages all students to discover their talents by giving them the opportunity to strengthen their abilities. For EO Green Junior High and Blackstock Junior High, students have been preparing to showcase their love for musical theatre with this year's spring musical: Beauty and the Beast Jr.
Over the past 5 years, musical theatre has taken root throughout HESD, and it all started when Billie Xayaphone was approached by the principal of E.O. Green, encouraging her to start a theatre club at the school. Soon, a group of her students began to express interest in joining the club– the rest is history.
Since their first performance of "Sleeping Beauty," Ms. Xayaphone has grown as an advisor and musical theatre lover. "Doing Sleeping Beauty taught me so much about how to run theatre, and I thought ok, I can do this. I learned from my mistakes and made improvements for future shows."
The Musical Theatre program has evolved from a campus club to a multi-school, year-long production. It is an ELOP (Expanded Learning Opportunities Program) and ASES (After School Education and Safety) enrichment program. Beginning in September, registration for the program is open to any interested student at EO Green and Blackstock Junior High. Currently, the program welcomes 40 students from each school. Practices range from 2-4 hours 2-3 times per week.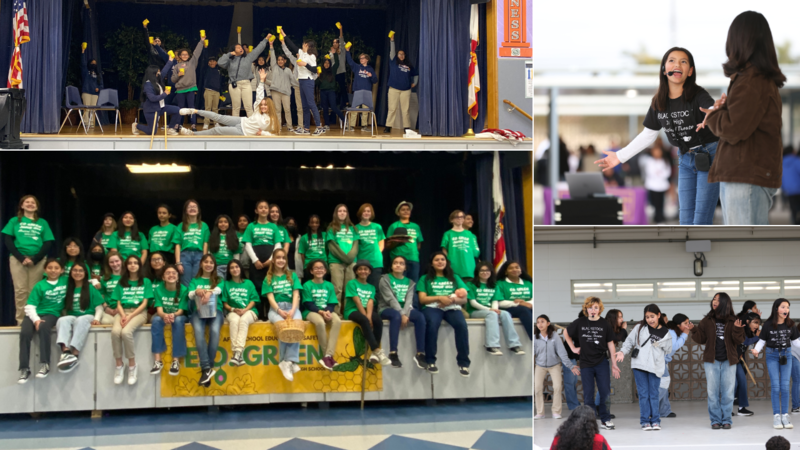 Though the schools do not perform together, they perform the same musical. And because they perform the same musical, practices are often mixed with students from both schools. Xayaphone stated, "I encourage all my students to consider themselves as one big theatre group, rather than two separate schools."
If you walk near Ms. Xayaphone's classroom, you will most likely hear students singing or practicing their lines. Choreography is one of the most complex elements of a musical theatre production, taking up 90% of rehearsals.
Xayaphone has enlisted the hands of many helpers to execute such successful performances. From numerous HESD theatre alumni who are now in high school, to bringing in trained choreographers like Savannah Larsen to be the assistant director, this is far from a one-woman show! Billie is quick to express gratitude to all who have helped her over the years, both teachers and parents. This year, Bethany and Thaddeus Dodds oversee the set and prop designs. All who take part in these productions show their dedication to the arts– a necessary component of what makes theatre so magical.
Let's take a peek at what the pacing for a year-long production looks like:
August/September- Focus on Enrollment. It's recommended that students enroll at this time since it is on a first come first serve basis. The first few weeks are spent building community and practicing improv and foundational theatre skills.
October- The musical is introduced, and students do table reads through the script and prepare for auditions later in the month.
November- Cast is assigned + rehearsals begin.
December to May- Rehearse, rehearse, rehearse! Learning the songs comes first, then choreography, and finally working on lines and acting. Each show is carefully selected with a good balance of ensemble (group songs) and solos, so everyone gets adequate stage time. During this time, the behind-the-scenes work is also taking place– ordering supplies, gathering costumes, building props, building the set, creating digital backgrounds, creating flyers and posters, and creating the program.
Though it may seem intensive to some, the Musical Theatre program comes with a great benefit– growth. The theatre has always drawn natural performers to the stage. But Ms. Xayaphone's favorite part is seeing the growth and improvement of those who stretch beyond their comfort zone. "The transformation has been awe-inspiring. Their voices have become bigger. Their stage presence is mighty. They are using their facial and body expressions more dramatically. They are not afraid to make mistakes. They take risks. They have their own ideas and input on how to improve scenes, and I welcome their contribution. They help each other, they cover for each other. They are each other's biggest cheerleaders. They uplift and inspire each other. They are healing themselves through theatre. They are knocking down personal barriers and limitations through theatre. The students' talents and gifts are inspiring, but my favorite part of theatre is the students themselves. They are so kind, loving, and accepting. They teach me and inspire me every day. I am thankful for them."
To witness all the hard work that has gone into this year's production, come watch Beauty and the Beast Jr. to support your favorite EO Green and Blackstock performers. All performances will take place at the Oxnard College Performance Arts Building.
Performance dates are the following:
Green:
Friday 5/12 at 6 pm
Saturday 5/13 at 2 pm and 6 pm
Blackstock:
Friday 6/2 at 6 pm
Saturday 6/3 at 2 pm and 6 pm
Doors open 30 minutes prior to show time.