The Hollywood Beach Spring Spirit Wear Sale is live! Choose from hundreds of designs and garments that are delivered to your home in days! You'll save 25% off the entire site! New product lines include Nike and Adidas! Shop at
https://1stplace.sale/13043
.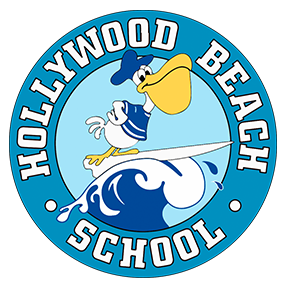 HBS Spring Pictures - Thursday, March 2! Send no cash - link will be sent home to choose pics after photos are taken. Smile, Pelicans!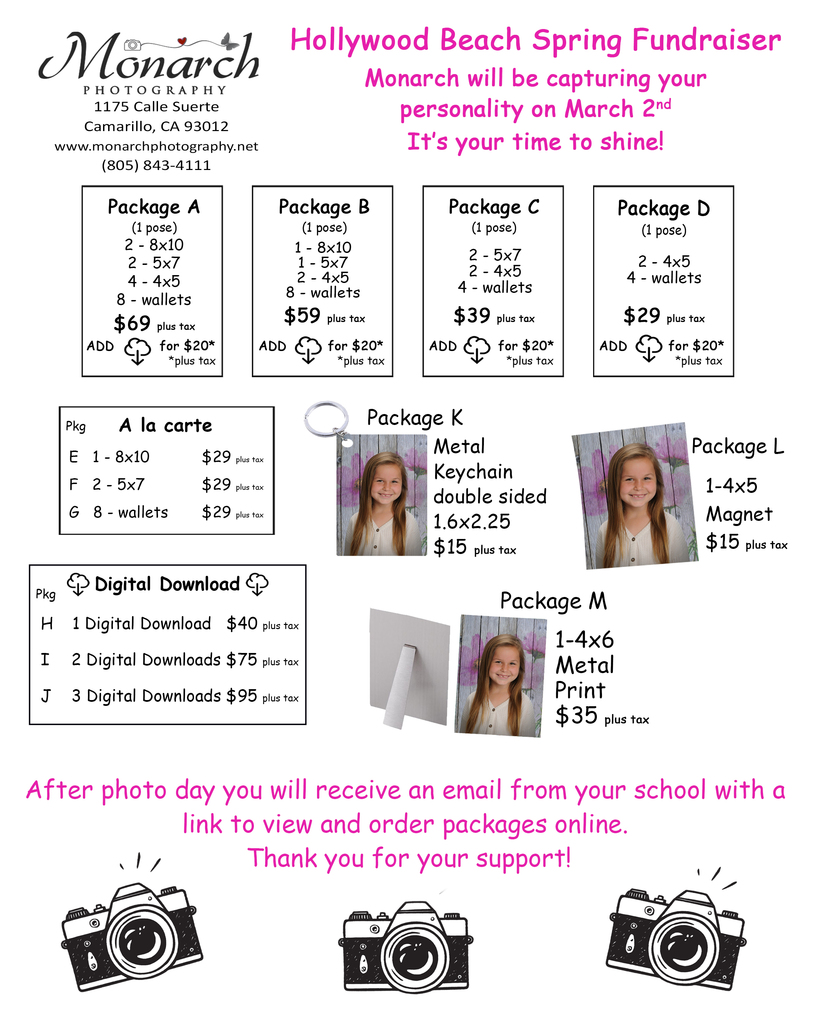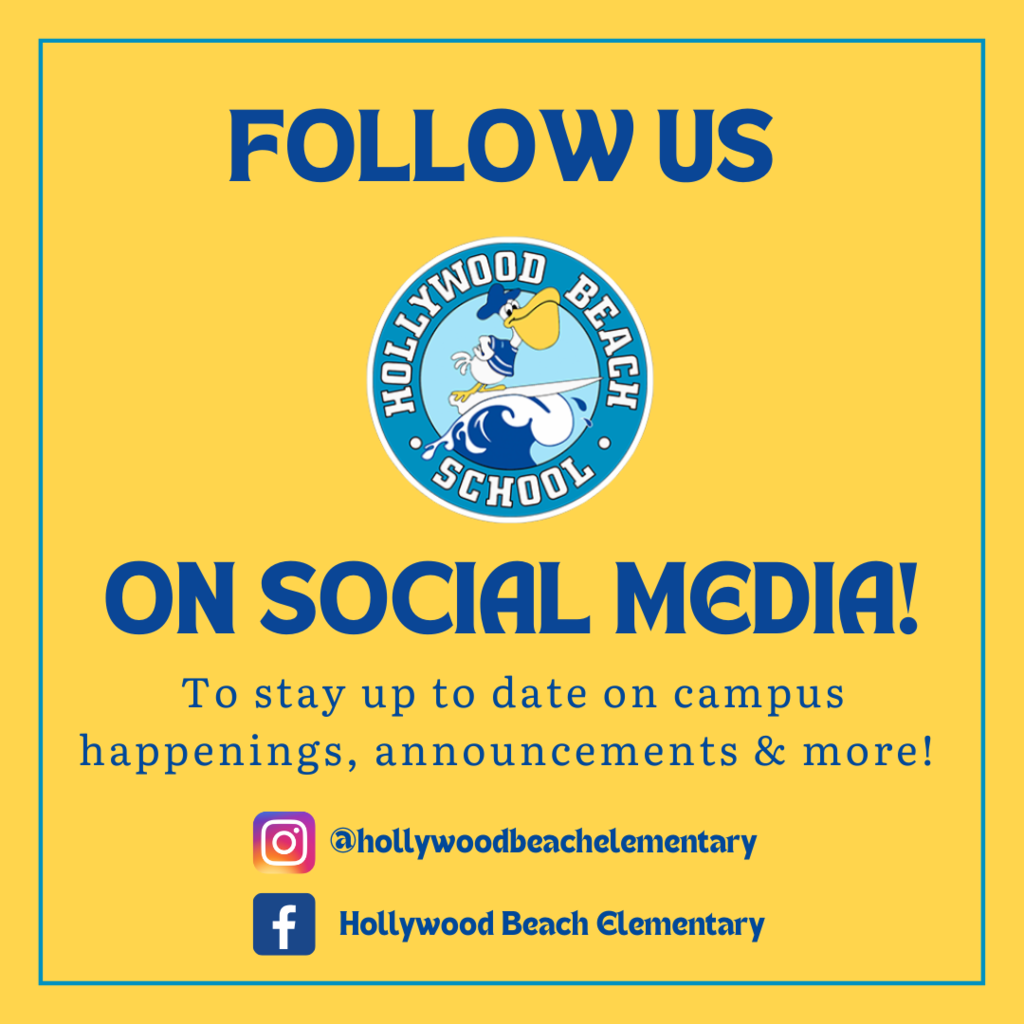 HBS Spiritwear Sale! All full-zip hoodies on sale $10 off. Shop now!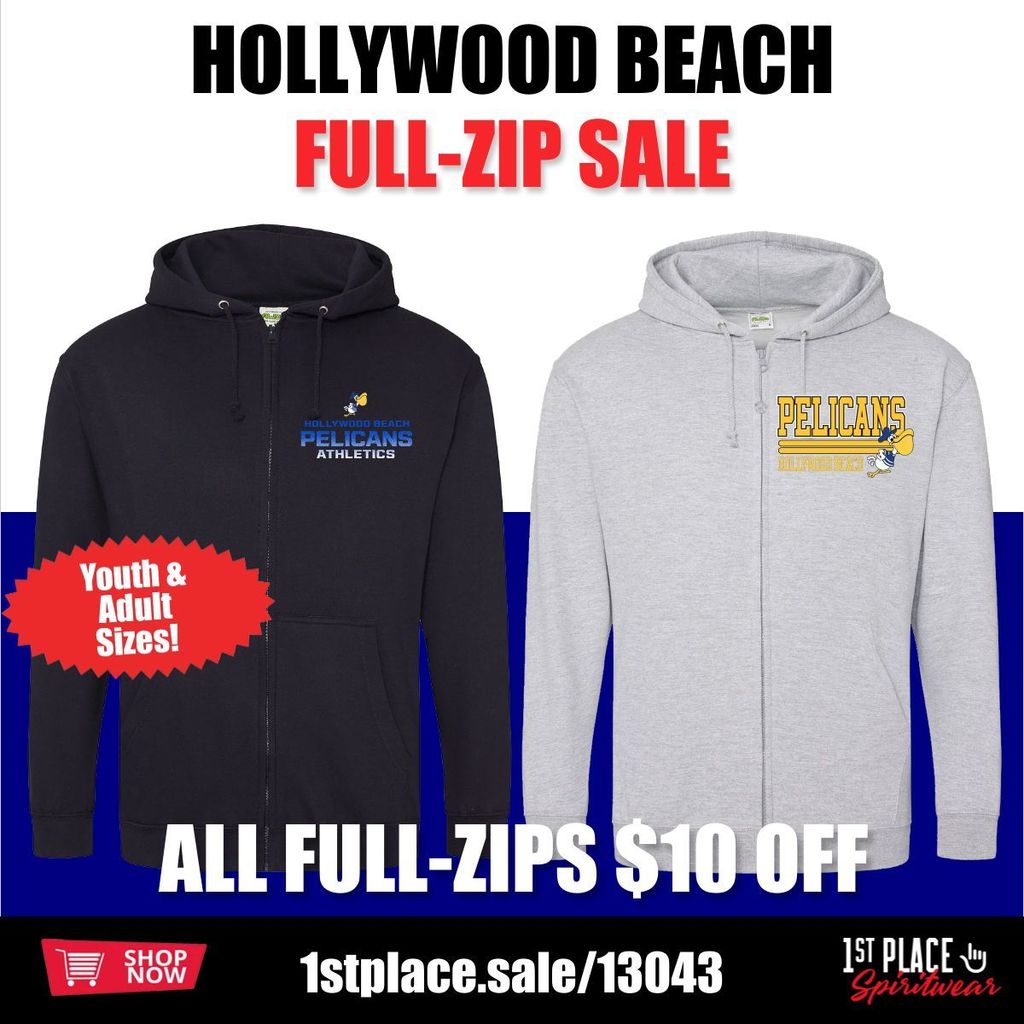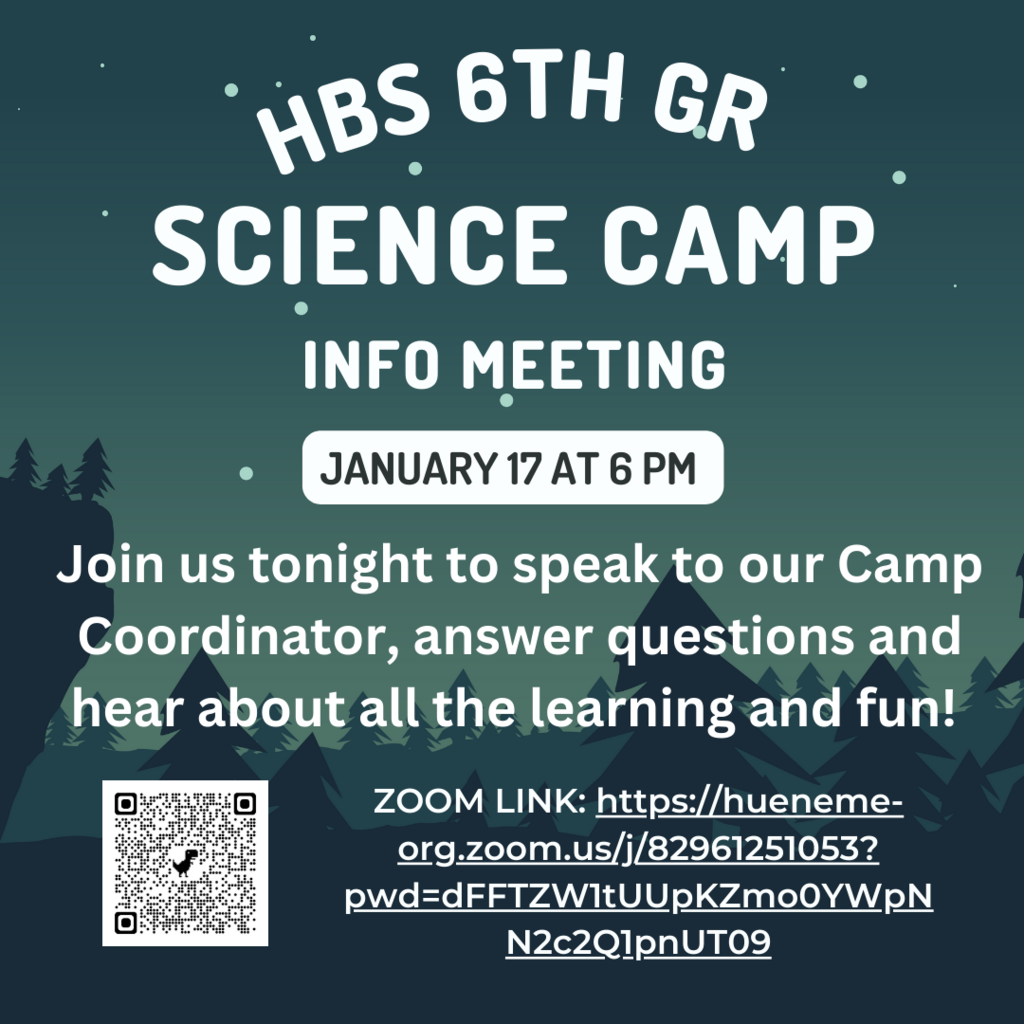 Hi Beach Families! Here's the latest edition of The Pelican's Perch newsletter! Enjoy!
https://www.smore.com/h0kqe
#HBSPride #HESDPride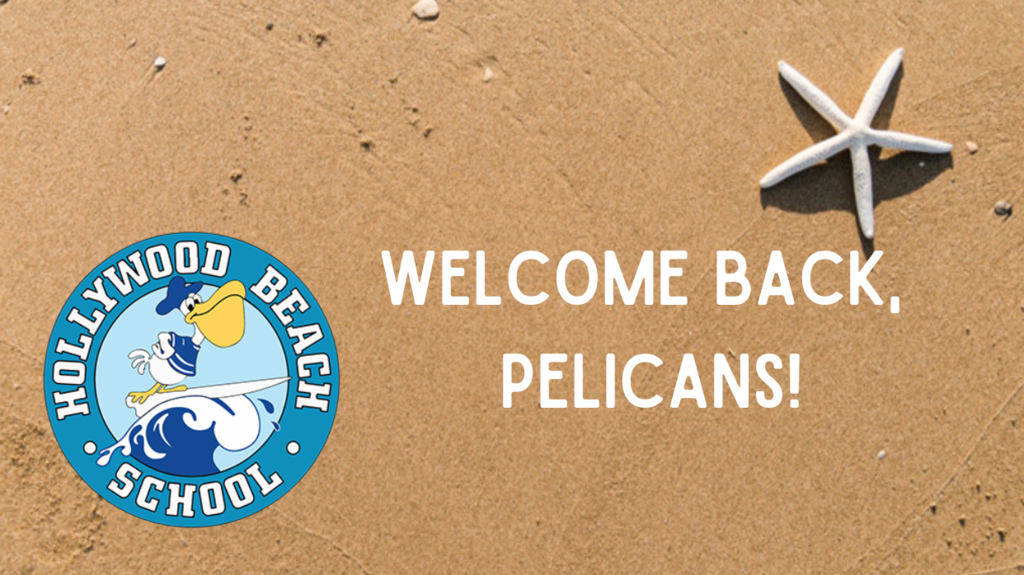 Happy Labor Day Weekend, Pelicans! Thanks for a wonderful start to our year. Remember, there's no school on Monday. Your Hollywood Beach Family wishes you and your family a restful and relaxing three day weekend! #HBSPride #HESDPride #HappyLaborDay

Hey, Beach Fams, get your Pelican Spirit Wear now! This is the final week of the Hollywood Beach School back-to-school sale! Save 30% on everything in our store. Choose from hundreds of spirit wear designs and garments that are delivered to your home in days. Don't miss it! Visit
https://1stplace.sale/13043
.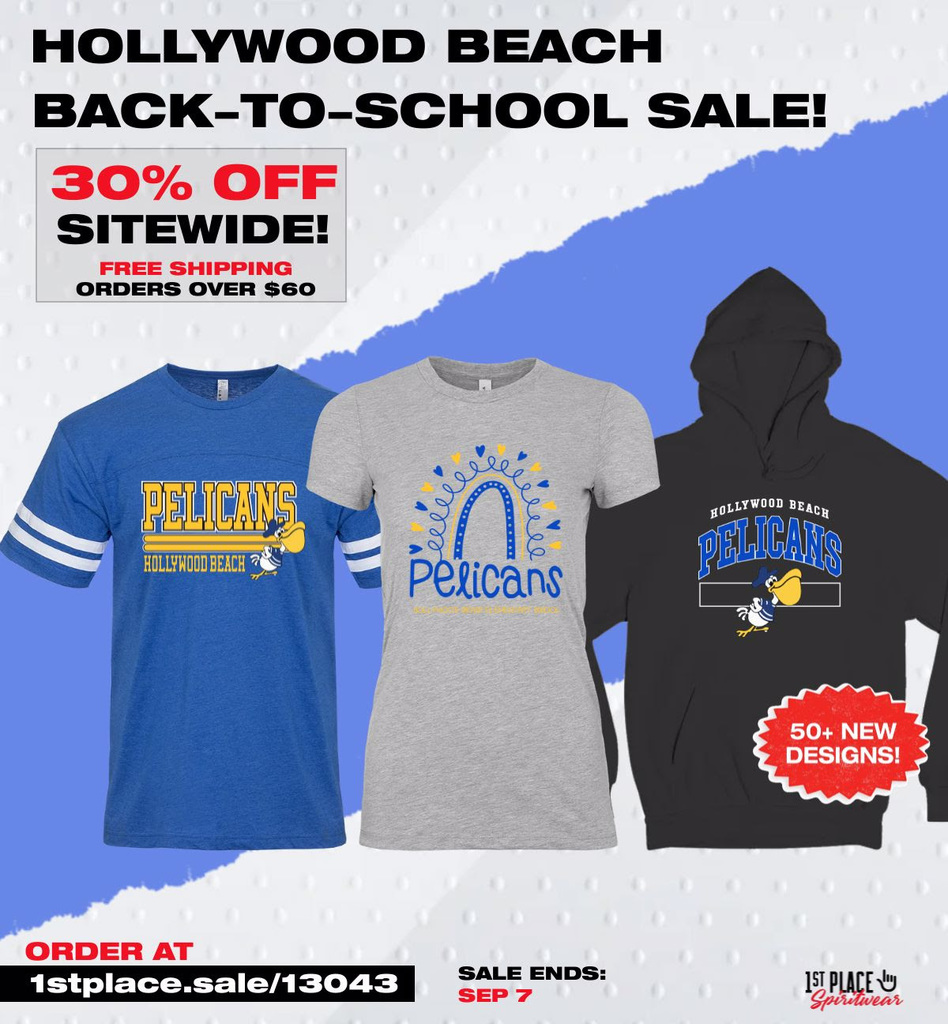 Welcome back, Pelican Families! School starts tomorrow, August 25, at 8 AM. Please see "Useful inks" on the website for arrival and dismissal times and map, bus schedule and more! Remember to charge your device and bring it to school! We're so excited - see you tomorrow, Beach Fams! #HBSPride #HESDPride #Back-to-School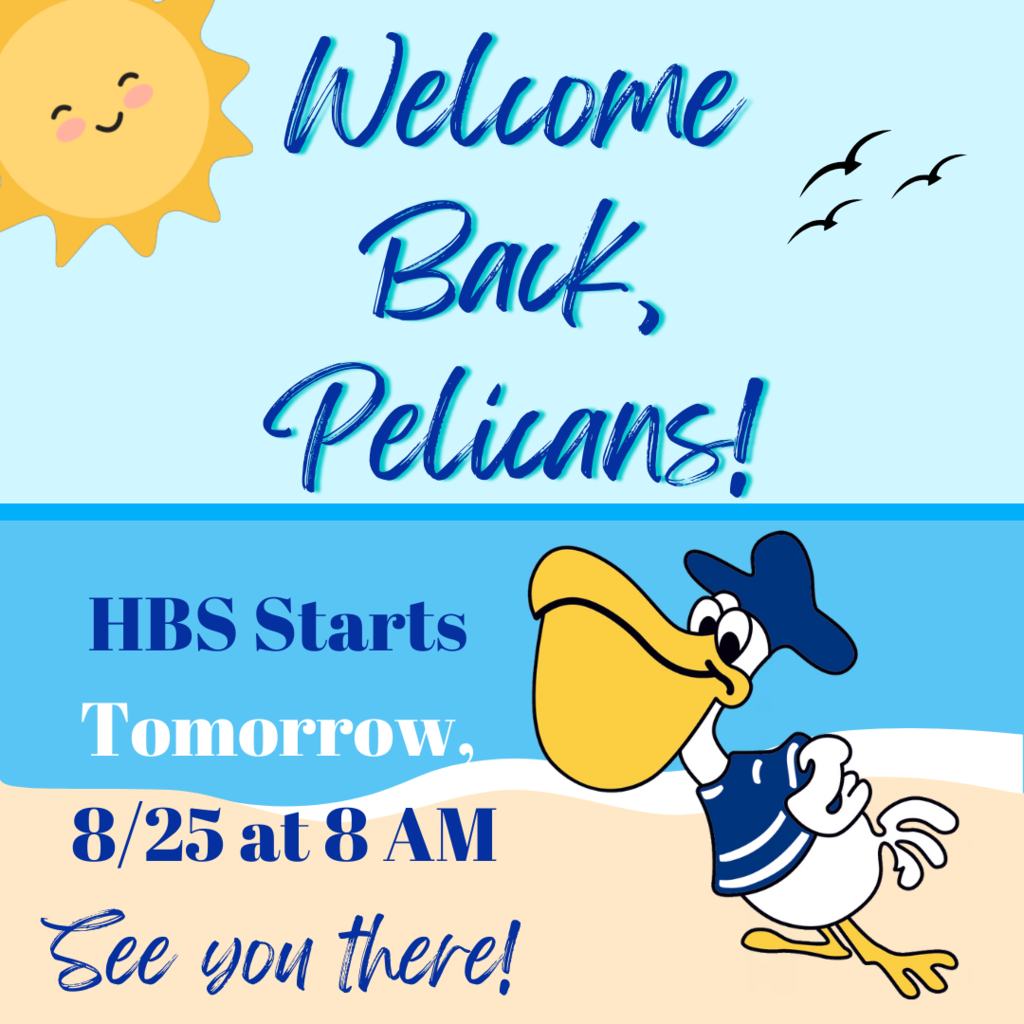 It's almost time, Pelicans! Stock up on spiritwear with our 30% off sale! New designs, new merchandise and more - order now for our first spirit days!
https://tinyurl.com/55ppuuv6
#HBSPride #HBSSpiritwear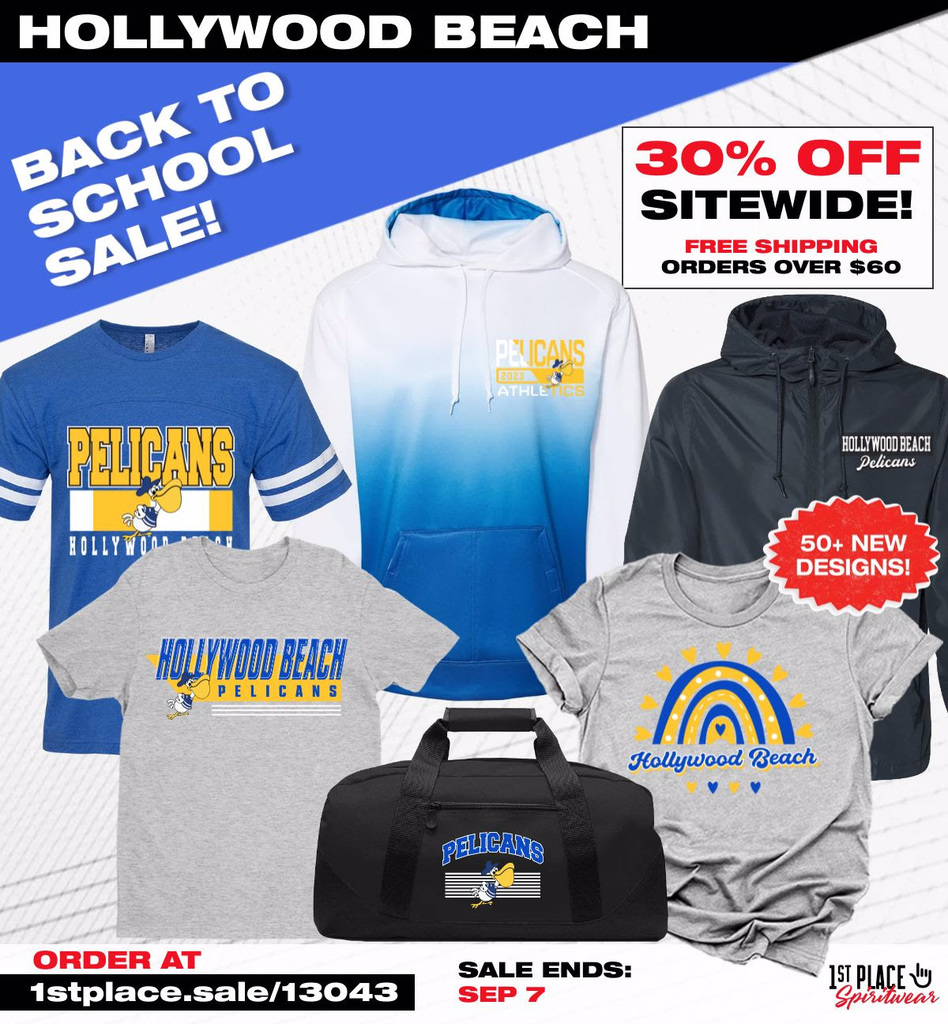 The first day of school is Thursday, August 25th. We can't wait to welcome students to the 2022-23 school year!

Great news: All students except current 2nd graders and students leaving the school district will be able to keep their devices over the summer. Students will have access to learning resources and apps through their Clever logins. When current 2nd graders return in the fall, they will be issued Chromebooks. If you are leaving HESD, or have a 2nd grader, please return your device, cord and chargers to school this Monday. Thanks for your help, Pelicans!

Hi Beach Families! It's almost time for summer and the school days are .jam-packed with awesome fun. Check out the pic for all the latest events and save it to your phone for easy reference! Enjoy the last two weeks! #HBSPride #HESDPride #AlmostSummer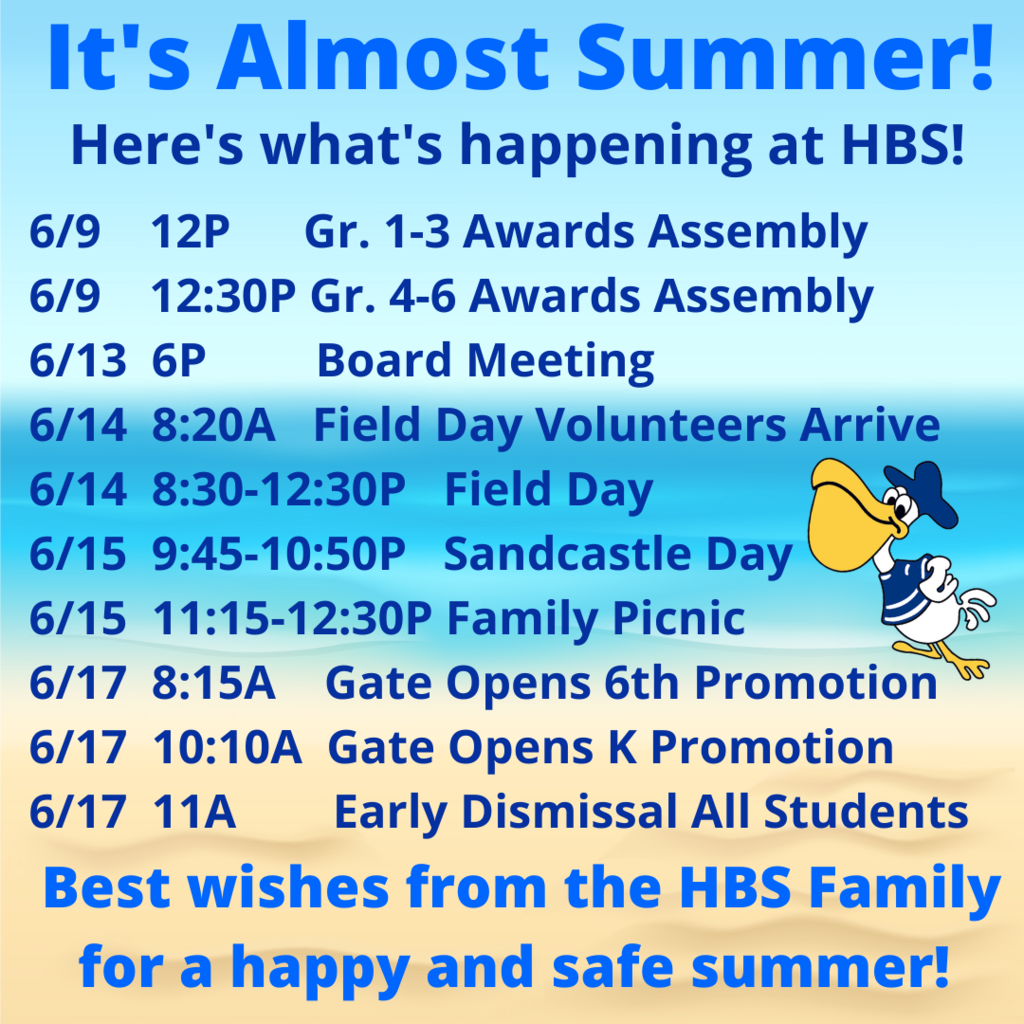 Still need to purchase your #HBSYearbook? Time's running out! Last day to order is 5/13/22, for $25. Small supply may be available the last week of school, for in person sales. Click here to purchase:
https://jostensyearbooks.com/?REF=A09854595
#HBSPRide #HESDPride


Hey there, Pelican Families! Here's the latest styles from our Spirit Wear company and show your school pride! Got a 6th Gr. Grad this year? HBS Alumni shirts make great Promotion gifts - look for those while you shop!
https://tinyurl.com/yckp26um
#HBSPride #BeachWear #HBSAlumni